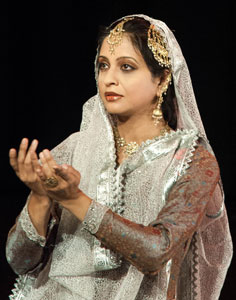 The Exuberant Trust supported the first collaborative work that Anuradha undertook to create the innovative choreographic piece A host of golden Daffodils which attempted to interpret Wordworth's work through the narrative elements of the dance form to the narration and improvisation of Oxford-based musician Malcolm Atkins.
Images show Anuradha chaturvedi in performance.
Anuradha Chaturvedi
Anuradha is an exponent of Lucknow tradition of Kathak and has been trained under well known Kathak Guru Arjun Mishra in Lucknow, India. Working as dancer-choreographer and Kathak Instructor in Oxford and surrounding areas she has been a performing artist for past 12 years.
Anuradha has done numerous concerts all across India and more recently in UK at various venues. She has been awarded with Sringar Mani, by Sur Sringaar Samsad, a prominent arts and cultural organization based in Mumbai, India for her exquisite emotive expressions and was a winner of the Barclays Live Dance competition from Reading Region.
Anuradha founded Drishti Dance in 2008, a performing arts organization that provides quality training in Kathak dance style and does collaborative work with to local dancers and artist.
For more information: www.drishtidance.com
For the Exuberant Trust Showcase, Anuradha will perform Quicksilver, a contemporary dance piece that was developed to the composition of composer, writer and pianist Jeremy Thurlow, a fellow of Robinson College, Cambridge. The piece was first presented in Total Performance Extravaganza at Robinson College, Cambridge and then again in a rerun of that event at Kings College London in July 2011.
Anuradha will also perform a traditional Kathak dance at the Showcase and she has provided some information about this below.
About the Dance pieces:
Invocation and Traditional Kathak: A glimpse of the dynamic display of technical nuances of the dance form, rooted in the mathematics of rhythm in its intricacies. The piece starts with invocation to the Lord Shri Krishna, the supreme Hindu deity embodying love and divine bliss. Krishna has influenced the Indian thought, life and culture in myriad ways. He has influenced not only its religion and philosophy, but also into its mysticism and literature, painting and sculpture, dance and music, and all aspects of Indian folklore.
The exploits of Krishna have inspired dancers for centuries. Whether its child Krishna vanquishing the demon serpent Kalia on the bank of Jamuna or young Krishna picking up mount Govardhan on his little finger to provide shelter to his people from the wrath of Rain God Indra, his stories have been told and re-told in all dance forms all across India.
He is the param yogi (Supreme Ascestic) and param guru (supreme teacher) of the great epic Mahabharata, expounding the philosophy of righteous action as a path to salvation. This traditional Sanskrit poetry was written by well known Hindu Vedantist and philosopher, Adi Shankracharya (686AD) invoking the protector and the saviour image of the lord.
Bhaje Vraj-ek Mandanam, samast paap khandanam
Swabhakt chitta ranjanam, Sadev nand nadnam…
Sing salutations to the only pearl of Vraj (Braj, the land of birth of Krishna), who destroys every sin (among us), who is an eternal bliss for his devotees, and who is the dear one of Nanda (father of Krishna).
Supechcha guchcha mastakam, sunade venu hastakam
Anang rang sagaram, namami Krishna nagaram…
Krishna, who is adorned with the crown of peacock feathers, whose hands carry melodious flute flowing with divine music- who is an ocean of beauty, art and aesthetics alight with the colours of life. I bow to that natwar nagar…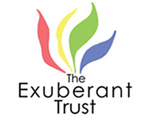 10th Anniversary Showcase Performers - 22nd September 2013, Pegasus Theatre, Oxford.