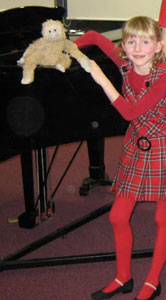 Beth received an Exuberant Trust award in 2013, which enabled her to take up a place in the National Childrenís Orchestra and gain a wonderful opportunity to gain orchestral experience with young musicians of a high standard.
Beth Fairbairn
Beth Fairbairn is 9 years old and started playing the violin when she was three with Margaret Parkin at the Oxford Suzuki Studio. She has performed in local concerts at the Oxford Music Festival and in large-scale Suzuki concerts in London.
After a successful audition, Beth gained a place to play in the National Childrenís Orchestra at a summer residential course, culminating with a performance at a gala concert in Birmingham Symphony Hall in August 2013. She will now have the chance to attend a regional orchestra, to continue her orchestral experience on a regular basis.
Apart from playing the violin Beth also plays the piano and the recorder and sings in her local Church Choir at St. Margaretís, Oxford. She also enjoys ballet, tap, gymnastics, swimming, ice skating and horse riding when she gets the chance.
For the Exuberant Trust Showcase Anna will play the following pieces for violin:
Concerto in A minor, 1st movement - Vivaldi
Humoresque - Dvorak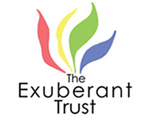 10th Anniversary Showcase Performers - 22nd September 2013, Pegasus Theatre, Oxford.