Oxford based stage designer Ellen Nabarro received an award from the Exuberant Trust to help fund her design work for the Commedia Ballet which premiered in 2011.
Photograph by Bill Cooper shows Commedia dancers Jack Jones, Katherine Kingston, Diamaid O'Meara, David Horn, Caroline Crawley and Bethany Elliott.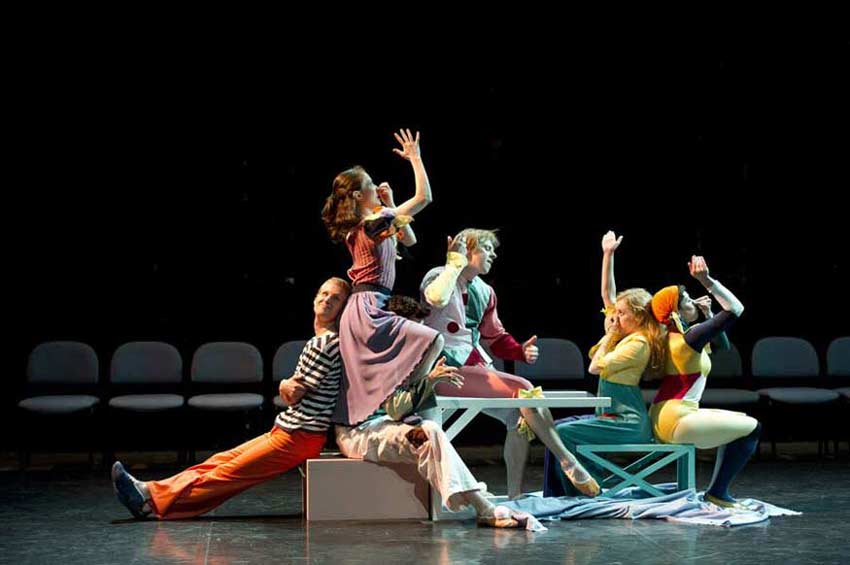 Ellen Nabarro
Ellen Nabarro (née Stewart) graduated in Theatre Design from The Royal Welsh College of Music and Drama in 2008, where she received The Principal's Award.
Ellen was the stage designer for the ballet Commedia ballet and she drew inspiration for the costumes and stage setting from the paintings by Claude Harrison (likened to the Commedia dell'arte, of Italian 16th Century origin), as envisaged by Sebastian Graham-Jones.
At the Showcase there will be a viewing of a short film showing extracts of the ballet Commedia, made by Exuberant Trust award-holder Finn Burrows.
Ellen has worked on many productions, as listed below.
Theatre design includes:
Viola Da Gamba (Ballet in Small Spaces) pre-production;
Spread a little Happiness (Salisbury Playhouse);
Boxed In (Shifting Sands Tour);
Jack and the Beanstalk (Courtyard Theatre);
Lord of the Flies (Salisbury Playhouse);
Puss in Boots, the Pantomime (Waterloo East Theatre);
Dido and Aeneas (Winterbourne Opera, Salisbury);
Inside Out / Commedia Ballet (The Castle, Wellingborough, & North Wall, Oxford);
Parade (Lowry); Merrily We Roll Along (Dancehouse);
Don Juan Comes Back from the War, Bad Girls: The Musical, Dangerous Daughters, Cinderella, Zombie Prom (The Drill Hall);
Habeas Corpus (Chapter Arts);
High School Musical 2 (UK premier, HSM2 Arena);
Splendour (The Caird);
Alice through the Looking Glass (Promenade, Cardiff);
Hay Fever (The Bute Theatre);
Assistant and Associate design includes:
Julius Caesar (St Ann's Warehouse) Associate Designer;
Curious Incident of the Dog in the Night-Time (National Theatre and Apollo Theatre);
Emil and the Detectives; Children of the Sun, Comedy of Errors, Cherry Orchard, Greenland, White Guard, Our Class (National Theatre);
Medea (ENO), Hay Fever (Noel Coward Theatre);
Haunted Child (The Royal Court);
Bernarda Alba (Almeida Theatre);
Moonlight (Donmar Warehouse);
Tosca (Houston Grand Theatre) - Assistant Designer to Bunny Christie
Ragtime and Midsummer's Night Dream (Regent Park Open Air Theatre) Associate Designer to Jon Bausor
Blood and Gifts (the National Theatre) - Assistant Designer to Ultz
Titus Andronicus (RSC), A Beautiful Thing, Wind in the Willows (The West Yorkshire Playhouse);
Wendy and Peter Pan (RSC) - Assistant Designer to Colin Richmond
Why the Lion Danced(Yellow Earth Theatre) Associate Designer to Jean Chan
Amen Corner (The National Theatre) - Assistant Designer to Ian Macneil
Bubble, Third Swan (Jon Hopkins, King Creosote Music Video) Associate Designer to Elliot Dear
Television includes:
Young, Autistic and Stage struck (Channel 4 Documentary, Lyric Theatre)
Film includes:
Boudicca Bites Back - Directed by Ken Russell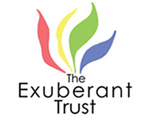 10th Anniversary Showcase Performers - 22nd September 2013, Pegasus Theatre, Oxford.