"The Exuberant Trust helped me in a time of great financial difficulties. Thanks to the grant I was able to pay part of my college's fees, allowing me to continue my education and develop as an artist".
Erika Montenegro
After completing a National Diploma in Dance at the Oxford Cherwell and Valley College, Erika continued her studies at the University of Winchester.
She recently graduated from a BA (Hons) in Choreography and Dance and her main interests are choreography and screen dance.
Erika has recently made her first dance film which will be screened at the Showcase.
The piece is titled Absent and evokes the idea of being 'present in a place while being absent altogether'. The music track is Ausencia by Goran Bregovic and the film has been choreographed, performed and filmed by Erika Montenegro.
The film is currently available to watch on YouTube.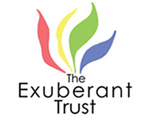 10th Anniversary Showcase Performers - 22nd September 2013, Pegasus Theatre, Oxford.