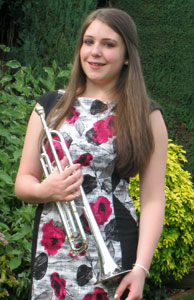 "The grant that I received from the Exuberant Trust went towards the purchase of my new trumpet that will certainly help in my chosen career path".
Georgia-Louise French
Georgia started playing the Piano at the age of 6 and began Cornet lessons when aged 9, moving onto the trumpet after 2 years.
She is currently a member of The Oxfordshire County Youth Orchestra, The Oxfordshire Youth Brass Ensemble, Witney Town Band and various School Music Groups.
During her time in these groups Georgia-Louise has played at The Royal Albert Hall, The Birmingham Symphony Hall, Christchurch Cathedral, Dorchester Abbey, The Queens Diamond Jubilee Celebration at Henley and The Sheldonian Theatre and many other venues.
Georgia-Louise enjoys composing and is part of a small group helping with a piece being written for a concert in March 2014 in Birmingham.
Having just completed her GCSE exams she will be starting 6th Form in September to begin her A Level studies and would like to then go on to study Music at University.
For the Exuberant Trust Showcase Georgia-Louise will play the following pieces:
Trumpet Fiesta – Composed by Donald Phillips and arranged by Edrich Siebert
2nd Trumpet by M Prowen
Piano accompaniment by Jo Willet

A lively trumpet duet usually accompanied by Brass Band, but today performed with Piano Accompaniment

Lucky To Be Me – Composed by Leonard Bernstein and arranged by David J Elliot
Piano accompaniment by M Prowen

A trumpet solo from the musical On the Town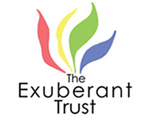 10th Anniversary Showcase Performers - 22nd September 2013, Pegasus Theatre, Oxford.