Paulette's Exuberant award enabled her to purchase a digital recorder for exploring ways to layer sound in live performance, including the experiemental recording of interactions with everyday experiences.
Images shown are of Paulette Mae in A Suitcase for all Occasions and sea me.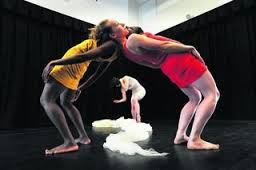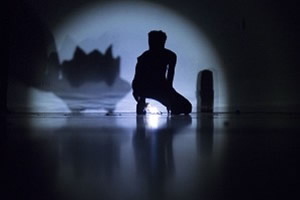 Paulette Mae
Paulette Mae is a dance artist based in Oxford making multidisciplinary work. She trained at the Northern School of Contemporary Dance in Leeds, going on to teach Street/Contemporary fusion sessions for schools, youth clubs, community groups and outreach projects for young people and adults. After moving to Oxford to study a BA Hons in English at Oxford Brookes University, Paulette was introduced to Physical Theatre and shortly afterwards the contemporary performance art of Butoh.
Since then, Paulette has been integrating these art forms into her practice, presenting work in places in and around Oxford, including the Burton Taylor Studio, Pegasus Theatre, and the Old Fire Station. A Suitcase for all Occasions Paulette's first fully devised piece of dance theatre was performed as part of Dancin' Oxford Festival 2012, and supported by the Arts Council England. Paulette also writes fiction, poetry and enjoys creating art and fashion pieces with textiles.
Paulette is currently working on a new dance piece sea me of which she says:
"in this new solo project I'm venturing to fuse dance with light and shadow and music-making using voice and unconventional instruments. I'm playing with layering…and being in multiple places at once through these mediums. Stencils, hand-made light objects, screens of varying materials, water, glass and reflection are coming together to create visual metaphors…the sense of multiple realities, along with my exploration into sound layering, recording and playing live in performance. The project is a work in progress and includes an installation (titled the escapologist) as part of the live performance too".
For more information see www.paulettemae.com
Paulette will perform extracts of sea me during September 2013: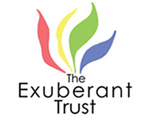 10th Anniversary Showcase Performers - 22nd September 2013, Pegasus Theatre, Oxford.