Peter Cowdrey and Liz Cowdrey
Notes from Peter Cowdrey
The programme covers 350 years of birdsong-inspired music, starting with the Sonata Representativa by Johann Schmelzer (1668), through Couperin, Rameau, Granados and Messiaen to our own transcriptions of slowed down songs of chiffchaff, goldfinch, goldcrest, chaffinch and other species that, with a bit of luck, will be singing alongside us in the garden.
Click to see a short BBC documentary including our transcription of a goldcrest song.
In tune with the outdoor theme, we will also include Eastern European Gypsy tunes, which are a great speciality of Liz's. Click to see her playing gypsy music from Serbia.
www.theconferenceofbirds.com/birdsong-and-gypsies.html
www.theconferenceofbirds.com/who-we-are.html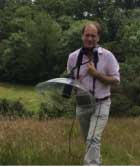 Peter Cowdrey
PETER COWDREY won music scholarships to Winchester College and Trinity College Cambridge. He studied composition with Oliver Knussen. His opera Zeller was performed by the Cambridge University Opera Society in 1985. He was resident in Polynesia for three years. He then founded the world music group Orbestra, which toured in Europe from Shetland to Bulgaria and in South America, and recorded with Hannibal/Rykodisc. In 1995 he conducted the premiere of his A Garden amidst Flames in Aya Irene, one of Istanbul's great basilicas, the culmination of a year long project for the Istanbul Festival bringing together musical traditions that had diverged after the crusades. Peter's works have been premiered at Schleswig Holstein Festival, the Royal Albert Hall, Queen Elizabeth Hall and Purcell Room. A new commission was premiered by the BBC Concert Orchestra in Bucharest in October 2016. He has written music for the Royal Shakespeare Company. A short video about a performance of Sorrowful Glen, for ten brass instruments, can be watched here. His newest piece, Recovered Voices, a song cycle based of transcriptions of the recorded voices of Gumilev, Mandelstam, Akhmatova and Pasternak, was premiered at the 2016 Moffat Russian Conference. As pianist he is a member of the trio Jubovski, which plays virtuoso gypsy inspired music from Haydn and Bartok to Transylvanian folk music and improvisation. In 2010, he founded Opera Unlimited and conducted the premiere of his one act opera The Lovely Ladies at Christies. This production was repeated at the Buxton Opera Festival in 2011. In November 2011 The Mad Duchess was premiered at Boughton House in Northamptonshire with further productions in 2012 at Claxton Opera Norfolk and in London. Future plans include an opera based on the Portrait of Dorian Gray with tenor Toby Spence, director Aylin Bozok, and designer Deborah Gourlay, and a puppet opera based on Paradise Lost. All of these works are written in partnership with librettist Hamish Robinson.

Many of Peter's compositions are inspired by birdsong; in 2009 he founded the ensemble The Conference of Birds. He founded a charitable initiative, Planet Birdsong, which promotes education and global communication through birdsong. Clickhere to view a short film about him on the BBC News website. With his sister Liz Peter leads Birdsong and Music Walking tours at Finca Buenvino in Andalucia. He has also led tours in Tuscany for ATG Travel. Peter's compositions can be heard at on his soundcloud page. CDs of his work can be bought here.
Liz Cowdrey
LIZ COWDREY Liz's free-spirited approach reflects passions for travel and exploration of different techniques and styles. Since her year abroad and music degree from Manchester, Liz has combined interest in world music and cultures with a childhood love of chamber music. She became a founder member of world music ensemble Orbestra, performing internationally with a series of concerts in Colombia, as soloist with 'Anatolia' in Turkey's Eskisehir International Festival, and at home with artists including the Brodsky and Emperor string quartets on London's South Bank. As a member of The Conference of Birds, Liz travelled to Brazil via the British Council researching and promoting links between Amazonian birds and music/dance, and took part in birdsong-inspired music and movement events in Tuscany. Liz co-leads guided Andalucian holidays, serenading walkers to evening tapas on the birdsong-rich hillside terrace with music ranging from classical violin sonatas to high-energy gypsy entertainment. Inspired by intoxicating folk and gypsy flavours in Eastern Europe and by the elemental presence of birdsong, Liz's sound transcription marks her commitment to absorbing depths of style and gesture. In performances associated with COB she explores inspired instrumental interaction in beautiful venues and natural settings; and with Opera Unlimited Liz has featured in chamber operas involving staged violin and vocal duets with singers in London and around the UK. Liz is also violin/violist in quartet Alma de Tango and trio Jubovski.