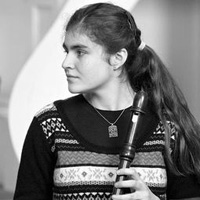 FATIMA LAHHAM is a recorder player currently studying on the Masters programme at the Royal College of Music with Ashley Solomon, Maria Martinez Ayerza and Julien Feltrin. As a soloist and chamber musician Fatima performs regularly with the RCM Baroque Orchestra, Oxford Baroque Soloists, with her chamber ensemble, and at venues recently including the Holywell Music Room, St. Paul's Covent Garden, the Harwich Festival, the Royal Academy of Arts, and the RCM's Amaryllis Fleming Concert Hall.
Previously Fatima read Music at Magdalen College, Oxford, where she received academic and music exhibitions, held two Joan Conway Scholarships, and graduated in 2014 with first-class honours. Active as a researcher and teacher, Fatima has been invited to speak at conferences at the Horniman museum and the Cambridge Faculty of Music, and holds posts as a teacher at the Junior Department of Birmingham Conservatoire, and as Musician-in-Residence at East Oxford Primary School.
Fatima's studies are supported by the RCM as a Derek Butler scholar, and she is grateful to have also received an Ian Evans Lombe Scholarship, a Help Musicians UK Artist Award 2014, Charlbury Foundation Exhibitions 2014-2016, and an Exuberant Trust Award 2015. In April 2016 Fatima will run the London Marathon with her recorder for Save the Children's Syria Appeal – her fundraising page is here.